Tony transformed my bathroom from a mouldy dud into a bright new spa experience!
Having one point of knowledgeable contact was great, especially given my experience with subpar plumbers and subcontractors.
Tony was pleasant to work with and very helpful with suggestions and solutions throughout the project.
Digging my new bathroom. Thanks again Tony!
Lily & Godzilla
New Client and her best friend
Tony transformed our basement from unusable to a bright, modern living space and bathroom where we are happy to entertain and have guests over.
Tony's expertise made this space better than we had hoped for! He is easy to work with and offers expert advice and guidance along the way.
Dave & Tamara
1911 Home Basement Renovation
My girlfriend found Anthony as a nicely recommended contractor for bathroom renovations.
After doing some checking around he seemed like the right way to go.
I was very happy with my choice. Work was very solid and stylish, looks even better than I expected. Also I am getting compliments from friends and family saying things like "I must have had a real pro doing this work". My brother who claims to be really picky and particular about how contractors due tile work was really impressed.
Anthony was great to work with, was flexible and offered very reasonable rates for top level results.
I highly recommend this company to anyone.
Quality work from a genuinely nice and detail-oriented craftsman. Good value. We will most definitely seek him out for future projects.
Elissa Cucan
Making it Right
I would highly recommend Homesmiths Renovations Inc for indoor and outdoor minor and major renovation projects.
Tony Smith's skill and expertise is exceptional. His work is not only of impeccable quality but also perfection. Tony always takes the time to understand what is needed and then goes one step further to provide options for consideration. He is professional and maintains an exceptionally clean work environment.
Tony always surpasses my expectations!
Patricia Petryshen
Repeat Client
I cannot recommend Tony highly enough for anyone that is planning a remodel/construction project.
We hired Tony to completely gut our entire downstairs and redo two of our bathrooms and our kitchen. I think, like most first time home owners, we underestimated just how large of a project we were taking on but Tony was there every step of the way to help us.
He went above and beyond and answered all of my questions/emails and phone calls, which we're almost daily at certain times. I can honestly say I've dealt with numerous builders/contractors over the years and Tony is the only one who I could be guaranteed would answer my emails within minutes, even if i sent them at 9 PM.
The first project we took on was remodelling our kitchen. Tony did everything; he tore down existing walls, built new walls, installed new floors, removed our terrible popcorn ceilings, installed our new cabinets and all of our appliances. When it came time to design the new layout for the kitchen and which cabinets and counter tops to install Tony was invaluable! He designed our entire kitchen for us and put up with us constantly changing our minds and making last minute revisions.
The next project we tackled was the en-suite bathroom and upstairs bathroom. Tony gutted everything for us down to the subfloor and wall studs. He then rebuilt two gorgeous bathrooms for us with custom tiling around the tub and walk in shower, new tile floors and all the electrical and plumbing.
We are so happy with the new bathrooms and kitchen remodels. Tony did an amazing job and was able to do all the work himself, saving the need to subcontract any third parties. I would recommend Tony to anyone doing any renovation projects in their home.
Theadora Michalski
Kitchen + Bathroom remodel
I recently had the pleasure of working with Tony to complete the full installation of a basement apartment for my rental property. My goal was to find someone who understood my priority was top quality work at a fair price.
Tony met and surpassed this goal. He liaised with inspectors to ensure work was done to the proper standards, as well as coordinating with other tradesmen to ensure we didn't lose time through coordination. Tony was thorough and professional in his work, which is immediately evident in the quality of the finished work.
Tony reacted quickly and competently to changes we requested, and fairly priced extras that resulted in the increase of scope. He was able to incorporated them into the project a timely manner. The quality of workmanship was second to none. This is true not just for the tile, trim, and other finishes, but for the layout of the plumbing and other rough work as well. Tony added significant value to the project with suggestions and tweaks to optimize our design.
Tony was involved in multiple trades, from plumbing to tile, framing to drywall, it was great to have one company handle it all and avoid any "finger pointing" or gaps in the scope.
Overall, I would recommend Homesmiths unreservedly for a renovation of any size.
Tony keeps the place tidy when he leaves (as much as one can on a renovation site), is careful and meticulous in his work, and he knows how to recognize and solve a variety of issues that might not occur to the homeowner (in plumbing, carpentry/framing, and electrical areas).
When you have Tony, his broad knowledge of multiple trades means you can avoid some of the confusion that comes from having many different tradespeople each doing their own part in isolation. That reduces errors and unwanted results.
I know if I had another renovation project, I'd want Tony over almost any other contractor I or my family have dealt with. He's not one to slap stuff together and leave a mess for the homeowner to discover later. He'll be straight and tell you the issues he discovers and what it would take to address them properly.
Tony might not give a client the cheapest quote, but his quote also isn't intentionally setup to leave the contractor an opening to take shortcuts or to later hold up the homeowner for more money. Yes, renovations usually result in some surprises that fall outside an initial scope of work, but Tony works hard to forsee the work items that will need done in advance. He also won't be the one to say 'well, this will work for now and I can leave it to be somebody else's problem later'. That's worth his rate and then some.
Thomas Barclay
IKEA kitchen renovation
I hired Anthony Smith in the fall of 2016 to fix a ceiling that had fallen in. I liked his work so much that I hired him to convert my circa 1950's 3 piece bathroom into a powder room. Again, I liked his work so much that I hired him to refinish my bedroom.
As a single woman cruising into her senior years, it can be hard to find, let alone trust someone to come into your home to do any kind of work. I have had no problem trusting and working with Tony, often leaving him alone to work in the house with my two cats. He has been an absolute pleasure to work with and has been very receptive when it comes to my input. Often this does not happen. In the past I have felt bullied and ignored by contractors who talk down to me, recommending extra work to 'pad thee bill' while cutting corners and doing shoddy work. It is too refreshing to find someone who is trained, talented, honest and actually listens.
When doing any kind of renovation, one has to deal with multiple trades, whether it be plumbing, electrical, structural, drywall, tiling and other finishes, making it very confusing, intrusive and hard to schedule. Tony is more than qualified to do all of the above and do them well, one stop shopping if you will. His workmanship and finishes have been the best I have ever seen. His tile work is picture perfect with a real attention to detail, and his wall finishes are flawless. He has turned what were crumbling circa 1953 rooms into brand new beautiful spaces.
I would hire him again in a heartbeat for any further projects.
Bayle Gorman
1950's home owner
Since 2009 our family has relied on Tony Smith and Homesmiths for many projects — from a full bathroom and basement renovation to a custom cedar outdoor shed. Whenever we have a project we come back to Tony because he is simply the best. He is exceptionally skilled and professional. He is dedicated to making sure each project is completed on time and within our family budget. While he comes with innovative ideas and is always up-to-date on new techniques and trends in his field, he also respects our unique requests for our home. Tony and his team have been more than easy to have around the home and are totally committed to making sure work is done in a clean fashion to ensure family life can function even in a renovation zone. I have recommended Homesmiths to many friends and colleagues and all come back to me with the same glowing review of his work. I would recommend Homesmiths to any family with a home renovation project in mind. Without any hesitation, I can say you won't be disappointed.
Elizabeth Shouldice
Client since 2009
"HomeSmiths" is Tony Smith, an experienced and skilled renovator. We asked him to give us an estimate for some changes to our kitchen after seeing the quality of his work in a neighbour's home.
Our house is a 1950's bungalow with an addition put on in 1969. The kitchen cabinets had not been changed in over 40 years. Connecting a portable dishwasher daily had weakened the faucet. The shine had long since worn off the flooring, last replaced in 1986… In other words, it was time for a change.
Tony's experience with similar projects showed from the start. He suggested pre-engineered cabinets from IKEA rather than custom-built. Not only would we save on initial costs but any future changes would be far easier. The savings on the cabinets could be put in to high quality PaperStone counter tops, quite durable and slightly less expensive than quartz. For a good selection of backsplash tiles and flooring he suggested we talk to his usual supplier, Centura.
His experience also showed in the written proposal he gave us. We were to be involved, doing parts of the project that didn't require his expertise. What we would be responsible for was clearly laid out, as were the services and materials that he would provide. The payments required as work progressed and the final costs were clear. Any changes or need for additional work as the project went forward would be discussed and costs would be agreed upon in advance.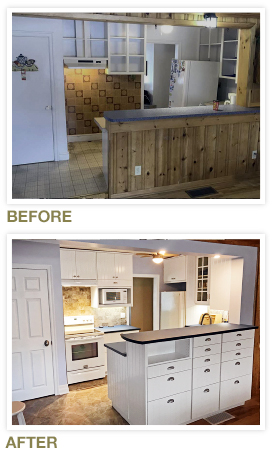 Pictures show the beautiful final results but one important change during demolition of the old kitchen isn't visible. Over the years (since 1951) water damage had weakened a section of the floor. It wasn't apparent to us but Tony saw it. So he reinforced the floor joists in that section before starting the rebuild. And surprise! He didn't charge extra – he saw it as part of what we were paying him for. On character alone we would recommend him to anyone considering a renovation.
We had major renovations to other parts of the house in 1986 so we half expected delays and frustration. We still shudder when we see a dumpster in a driveway! But this reno went smoothly, largely because Tony's many skills meant not having to make sure that all the different trades were available exactly when required.
Even for the demolition, which most handymen could do, his experience showed. He came prepared with a portable "bubble" that enclosed the area and kept dust and debris from spreading to the rest of the house
When the cabinet material arrived (113 boxes) he knew how to assemble it all.
Plumbing? He is a certified plumber.
Counter tops? He worked with the experts from Empire Marble and Granite for the measuring and installation so the counter tops fit the cabinets perfectly.
Flooring? He laid it down before starting the cabinets, reducing the need to work around obstacles. This also eliminated joints and left less chance of any future leaks getting through and damaging the sub floor.
Backsplash? Tony's tiling job is perfect.
Trim? He is also an excellent finish carpenter and painter.
And throughout the project he cleaned up as he went and at the end of each day so dirt wouldn't get tracked through the rest of the house.
Reno projects always disrupt your life… after all, our kitchen was out of commission for over a month. But we could see daily progress and the final result is better than we could have imagined.
Thank you, Tony Smith!
George Jackson
1950's bungalow kitchen reno
I recently reached out to Tony and HomeSmiths Renovations because I could hear a water dripping noise in a room in my finished basement.
Tony quickly determined the source of the water and put me at ease by taking the time to explain what happened and what steps he was taking to remediate the water damaged area.
Once the remediation was complete, he replaced a section of drywall and installed laminate flooring. The room looks great, but more importantly I have the peace of mind knowing that the work behind the walls was completed with the same attention to details as the finishing touches. Thank you Tony!!!
This is not the first time Tony and HomeSmiths has come to my rescue – so to speak – Tony has completed a number of projects on my 50's Bungalow, including a recent bathroom renovation.
He worked with me on the bathroom design providing valuable feedback. Tony also helped me source tiles from his contacts at Centurian who provided me with some unique tile choices within my budget.
Tony is trustworthy, his knowledge is extensive and his attention to detail has resulted in a finished product that has always exceeded my expectations.
Linda Molloy
Repeat Customer