We treat your home as our own
Kitchens Renovations and Upgrades
Because the kitchen is the most popular spot in any home, it should be as functional as it is inviting. We can help you completely redesign your kitchen for optimal use, cleanliness and ease of maintenance.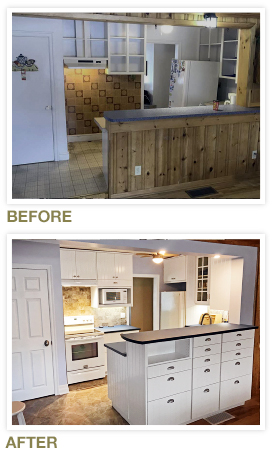 If you are looking for a full upgrade, HomeSmiths will work directly with you, and on your behalf, with other suppliers, designers and architects throughout all aspects of the job.
We will work with you (or your team) from the preliminary planning phase right through to completion; including demolition, reframing, plumbing and electrical modifications, cabinetry installations and counter tops.
To accommodate life style changes or special needs, we can also provide additional or under cabinet ambient lighting and layout adjustments.
Kitchen wall tiles and tile flooring can also improve and add value to your home, as well as making it simpler to keep clean. We would be pleased to provide information and ideas so you know you are making the right choice.
Looking for something simpler in the way of upgrades? such as making the necessary alterations to accommodate new upgraded appliances? We can help with that, too.

And what about those IKEA® kitchens? They are popular because they are great value! We are familiar with both their design software, as well as assembly and installation of their cabinetry and hardware. HomeSmiths does the work (including designing [together with you if you like]), you get all of the value (quality and savings), and none of the frustration of having to learn new tools.
Accuracy is guaranteed because we take the necessary time during every stage of the project to measure and set up accurately, so that there are no surprises or potential for cumulative errors.
Large or small, HomeSmiths will complete the job from start to finish.
… Whenever we have a project we come back to Tony because he is simply the best. He is exceptionally skilled and professional. He is dedicated to making sure each project is completed on time and within our family budget.
Elizabeth Shouldice
Client since 2009
Tony keeps the place tidy when he leaves, is careful and meticulous in his work, and he knows how to recognize and solve a variety of issues that might not occur to the homeowner … 
I know if I had another renovation project, I'd want Tony over almost any other contractor I or my family have dealt with.
Thomas Barclay
IKEA kitchen renovation