We treat your home as our own
Basement Renovations and Upgrades
HomeSmiths can help you transform your basement into a recreation room and also help set up dedicated spaces for laundry and storage.
For warmth and comfort, your redesign might also include a new fireplace installation for added heat efficiency. Radiant floor heating is another option for a quiet, environmentally friendly and cost effective heating system that can be enjoyed during our long Canadian winters.
We can help you determine the placement or removal of interior walls so as not to compromise the structural integrity of your home. During the framing process insulation can be upgraded to help manage your heating costs. Any necessary plumbing and electrical adjustments can also made during this phase. Drywall installations on dividing walls are brought to a smooth finish and are perfected with the trim and colour finish of your choice.
Nothing completes a room better that beautiful hardwood or laminate flooring. Either style has its own benefits and challenges. Hardwood may cost more, but it provides a very solid flooring solution that will stand the test of time. Laminate flooring is cost-effective, durable and adds a polished look to your room but it also requires as perfectly level base floor structure. No matter what your choice, HomeSmiths installs either one with great precision and care.
Looking for something simpler in the way of upgrades? such as making the necessary alterations to accommodate new upgraded appliances? We can help with that, too.
Accuracy is guaranteed because we take the necessary time during every stage of the project to measure and set up accurately, so that there are no surprises or potential for cumulative errors.
SAMPLE PROJECT
Dave & Tamara's 1911 Ottawa Home Basement Renovations
Three-piece bathroom with custom shower, closet, and new stairwell
This project started in the unfinished basement of a 1911 home in New Edinburgh, Ottawa.
While we had the advantage of unusually high ceilings for a home from the turn of the century, the HVAC ductwork needed to be modified to improve the headroom.
First, we installed a new levelled subfloor, on which to build the finished space. New framing, ductwork, insulation and vapour barrier, and drywall. Customer chosen finishes were then added, maintaining the character of the beautiful original architecture.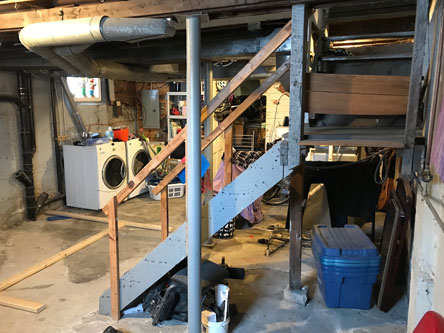 1
Basement before we started work.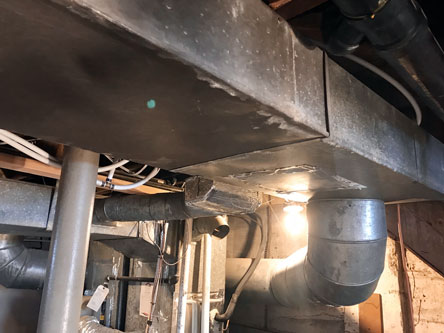 2
The ductwork that was removed and reworked to increase headroom.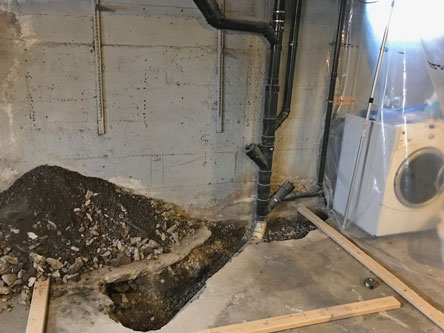 3
Laying out the bathroom and underground plumbing rough-in.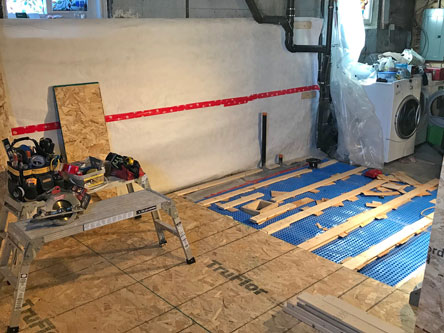 4
Levelled strapping installed over moisture-proof membrane providing a perfectly dry and level subfloor.
5
New framing with redone ductwork for maximum headroom.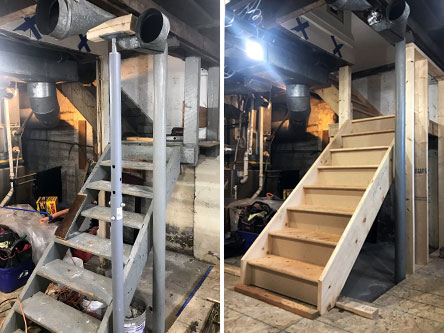 6
The old stairs and the new stairs being installed with new landing.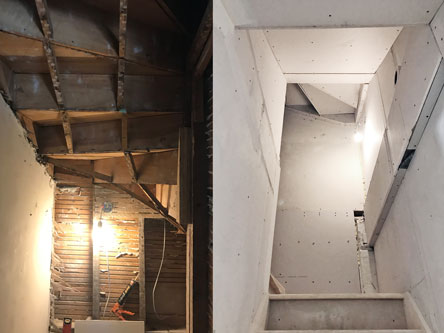 7
Removal of old lathe and plaster then on to new back framing and drywall install.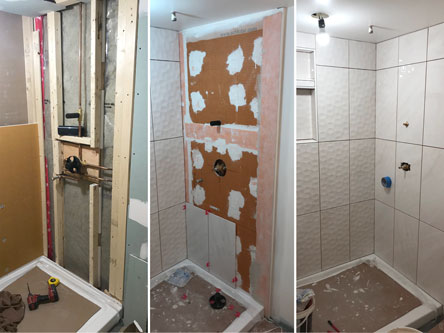 8
Installation of shower pan and valve, tile with niche and shower doors.
9
Installation of insulation and drywall and taping.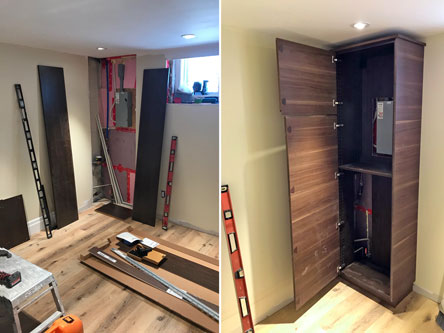 10
Installation of IKEA cabinet as "built-in" to hide water meter and electrical panel.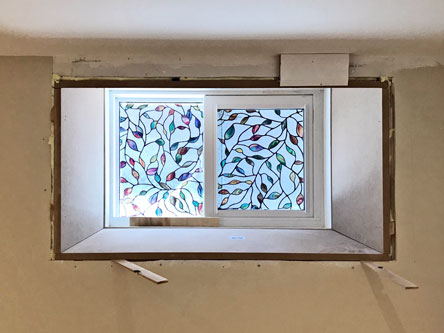 11
Finishing the window, flared out to let in maximum light in the basement.
Quality work from a genuinely nice and detail-oriented craftsman. Good value. We will most definitely seek him out for future projects.
Elissa Cucan
Making it Right
"HomeSmiths" is Tony Smith, an experienced and skilled renovator … On character alone we would recommend him to anyone considering a renovation.
George Jackson
1950's bungalow kitchen reno