We treat your home as our own
Lily's en-suite bathroom
Making a client and her best friend happy again.
"Tony transformed my bathroom from a mouldy dud into a bright new spa experience! 
Having one point of knowledgeable contact was great, especially given my experience with subpar plumbers and subcontractors. Tony was pleasant to work with and very helpful with suggestions and solutions throughout the project. 
Digging my new bathroom. Thanks again Tony!"
SAMPLE PROJECT
Solving a problem before it has gone too far! This renovation work had to be done ASAP, as poor craftsmanship was causing a shower to leak into the apartment below, causing the ceiling to drop.
1
The bathroom before work started show a few signs of trouble.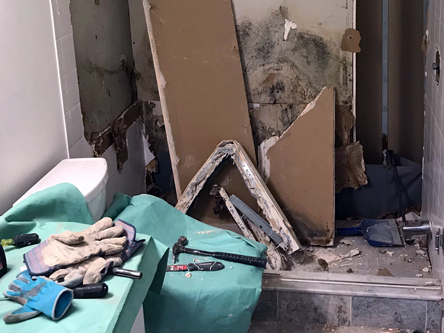 2
We soon discovered the water damage was throughout the bathroom…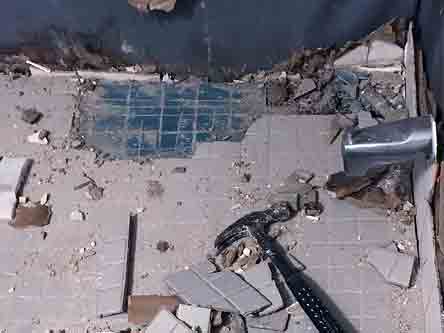 3
… and also discovered that the tile work had been done on top of the original tiles, compounding the problems!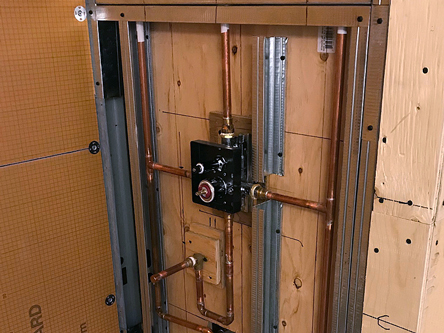 4
New proper shower valve installed…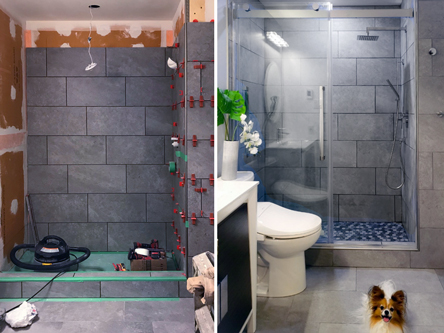 6
Finished with new tiling and radiant floor heating for a very happy customer.
… I recently reached out to Tony because I could hear water dripping. Tony quickly determined the source and put me at ease by taking the time to explain what happened and what steps he was taking to remediate the water damaged.
The room looks great, but more importantly I have the peace of mind knowing that the work behind the walls was completed with the same attention to details as the finishing touches …
Linda Molloy
Repeat Customer
I cannot recommend Tony highly enough for anyone that is planning a remodel/construction project … Tony was there every step of the way to help us. He was invaluable!
Theadora Michalski
Kitchen + Bathroom remodel